about Double C
high quality at a fair price.
Double C is more than a local restaurant. It's a philosophy to deliver high-quality food from local farms, the partner ranch and their own USDA inspected butcher shop.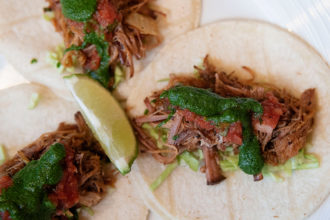 Sean & Michael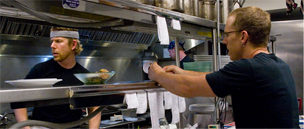 Lil' Ponderosa Ranch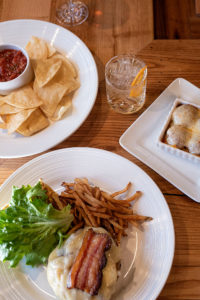 Chefs Cavanaugh and Carson are partners in Lil' Ponderosa Ranch with Bob Boyce. Bob is an award-winning rancher who raises, and breeds grass fed Black Angus cattle of superior quality. Bob has supplied beef and pork to John J. Jeffries for 10 years. Under Bob's supervision, tutelage, and hard work The Double C receives the same great beef that has been so successful at jjj.
Chefs Cavanaugh and Carson are the majority partners in Lil' Ponderosa Enterprises (LPE). This is a USDA-inspected butcher shop and abattoir located in Chambersburg, PA. It was purchased in 2016 in another partnership with Cavanaugh, Carson and Boyce. While doing work for Central Pennsylvania small family livestock farmers at LPE, Cavanaugh and Carson control the butchering and dry aging process for the beef, bison and pork at jjj and The Double C. The attention and detail that apply to the grass-fed dry-aged steaks at jjj also results in delicious grass fed and dry aged burgers at The Double C.
Keystone Casual
We feel the ranching partnership along with ownership of the butcher shop and abattoir is a major clear-cut advantage that not only keeps food dollars in Central PA but is unmatched in quality. We haven't been able to find another operation that puts this much time and effort into sourcing a great hamburger patty for the casual neighborhood diner, "Keystone Casual."